AOP Minervois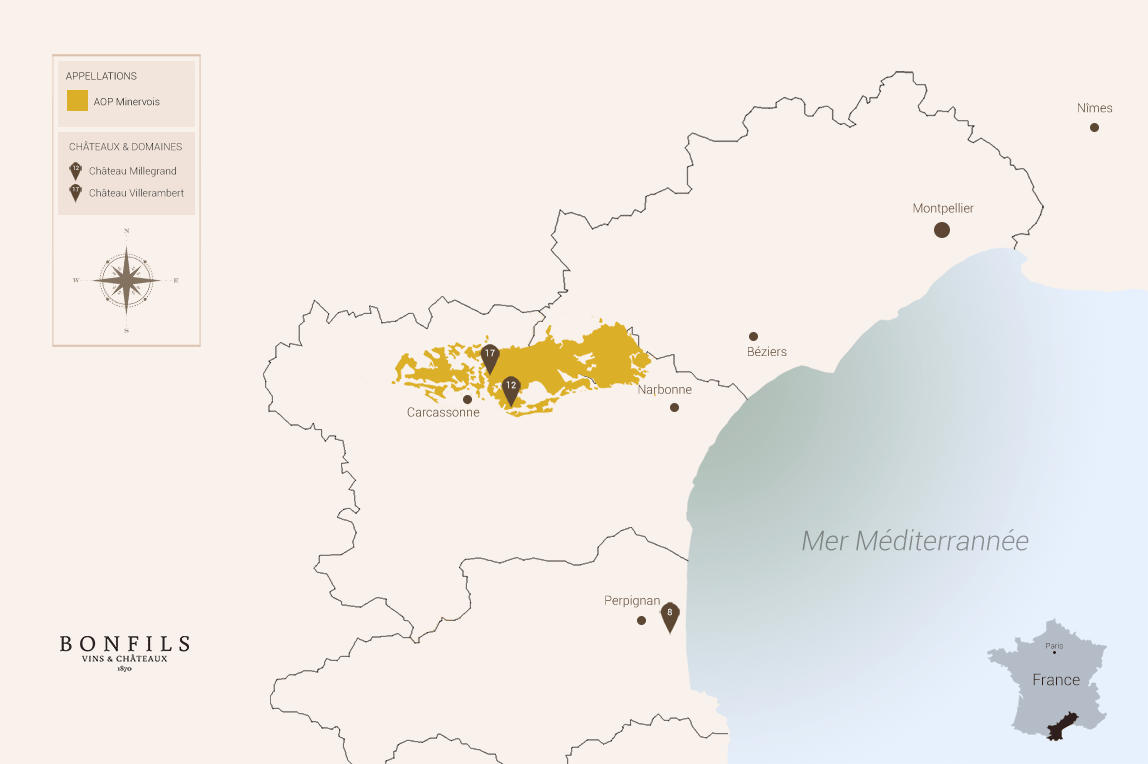 Climate
The climate here is Mediterranean-dominant with Atlantic influences in the western part (Clamoux and Côtes Noires). Winters can be quite harsh on the limestone plateau located 300 m above sea level.
Soils
A series of terraces home to pebbles, sandstone, schist or limestone. The terraces alternate with areas of limestone marl and sandstone. To the north-west, near Caunes-Minervois, veins of schist and pink marble are a distinctive feature of the landscape. The high altitude area is formed of limestone plateaux.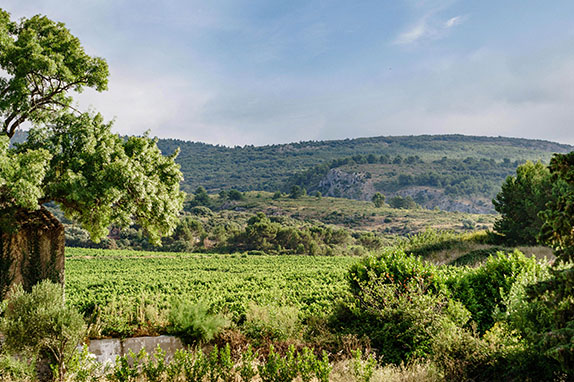 Permitted grape varieties
WHITE WINES :
Marsanne
Roussanne
Maccabeu
Bourboulenc
Clairette
Grenache
Vermentino
Picpoul
Muscat à petits grains
ROSÉ & RED WINES :
Syrah
Mourvèdre (>20%)
Grenache
Lladoner Pelut (>60%)
Carignan
Cinsault
Terret
Aspiran
Piquepoul for the reds (<40%)
Colours and styles
White Minervois : The white wines reveal aromas of white fruits (peach) and tropical fruits (pineapple, orange, grapefruit). Clean on the attack, the whites deliver the secrets of proficient maturation on the finish in the form of vanilla, honey and a Muscat-like nuance with unrivalled melt-in-the-mouth softness.
Rosé Minervois : Typical garrigue aromas emerge in the rosé wines, which display a complex array of fruit aromatics, with strawberry, grenadine and blackcurrant. These are fresh yet fairly powerful wines capped off with a long finish.
Red Minervois : Over the first few years, Minervois red wines are blackcurrant and violet-dominant, particularly when Syrah is the main grape variety. They are coupled with spices including vanilla and cinnamon. 
The red wines are generally powerful and robust.