IGP Pays d'Oc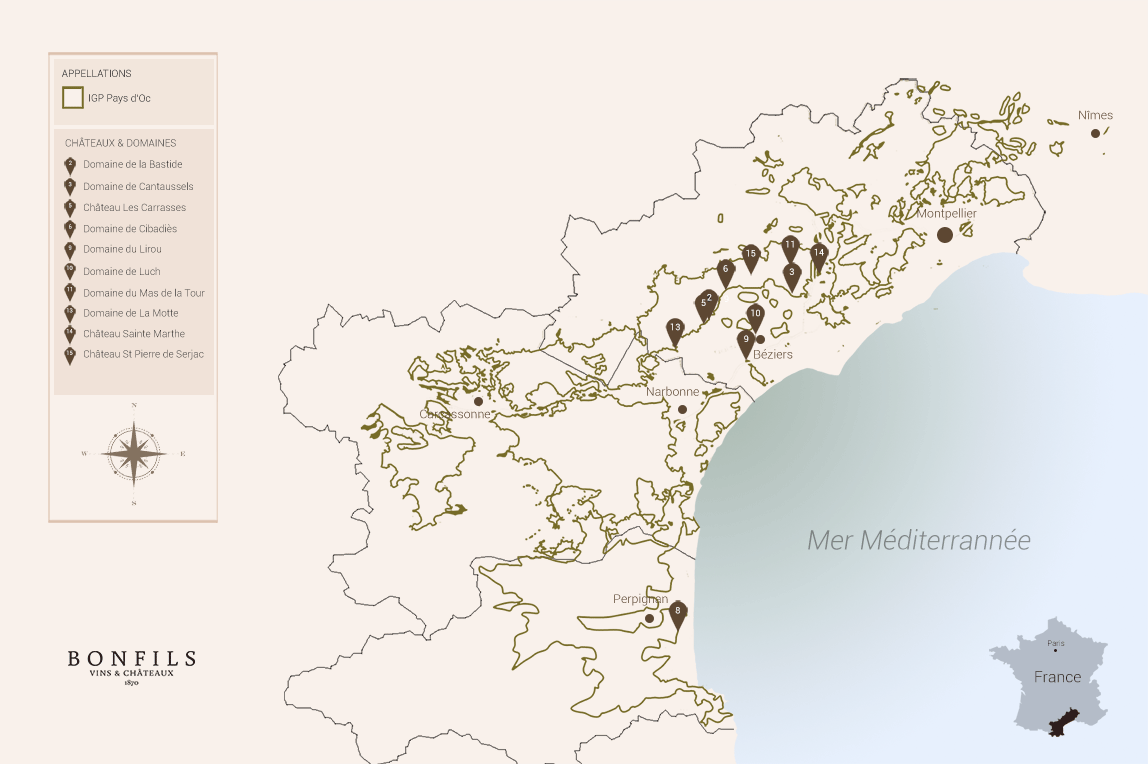 Climate
Grown between the Mediterranean and the mountains, IGP Pays d'Oc varietal wines cover an extensive sun-kissed area from the Camargue to the Vermillion Coast, in the heart of France's largest wine region which is also renowned for its appellation wines.  
Its climate promotes healthy vines. The IGP Pays d'Oc production area covers the length and breadth of Languedoc-Roussillon:
France's third most sunny region
Home to garrigue moorland, pine forests, olive groves, lush meadows, oaks and strawberry trees
Promoting synergy with nature
Buffeted by 4 regional winds
Boasting good soil and weather conditions
Soils
Pays d'Oc is such an extensive wine region that it is naturally home to an extraordinary range of soil types, that can vary from sandy terrain along the coast to limestone, schist, clay or stony gravel on the valley floors and hillsides.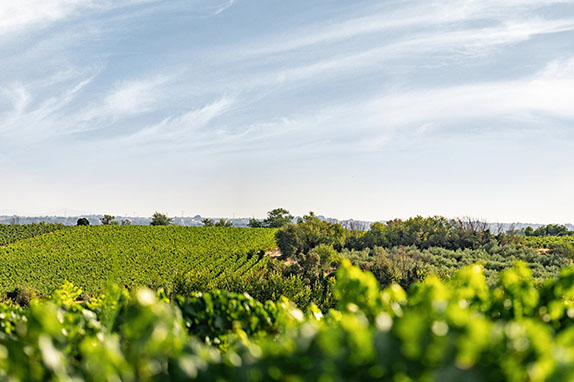 Permitted grape varieties
This mosaic of vineyard sites allows 58 permitted grape varieties to fully express themselves.
WHITE WINES :
Chardonnay
Sauvignon Blanc
Viognier
Grenache Blanc
Muscat Petits Grains
Vermentino
Colombard
Terret Blanc
Marsanne
Roussanne
ROSÉ WINES :
Grenache Noir
Cinsault
Syrah
Merlot
Cabernet-Sauvignon
Cabernet Franc
Pinot Noir
Grenache Gris
RED WINES :
Merlot
Cabernet-Sauvignon
Syrah
Pinot Noir
Grenache Noir
Cabernet Franc
Marselan
Carignan Noir
Malbec
Alicante H. Bouschet
Mourvèdre
Colours and styles
The character of IGP Pays d'Oc varietal wines is closely connected to the sunny Mediterranean climate in the Pays d'Oc region. 
The grapes ripen effortlessly and this translates to highly concentrated and very aromatic varietal wines. The main feature of IGP Pays d'Oc varietal wines is their fruitiness.
The array of vineyard sites, wineries, philosophies and the region's extensive boundaries for growing wines, coupled with its countless grape varieties and people, pave the way for infinite combinations and varietal characters.