IGP Côtes Catalanes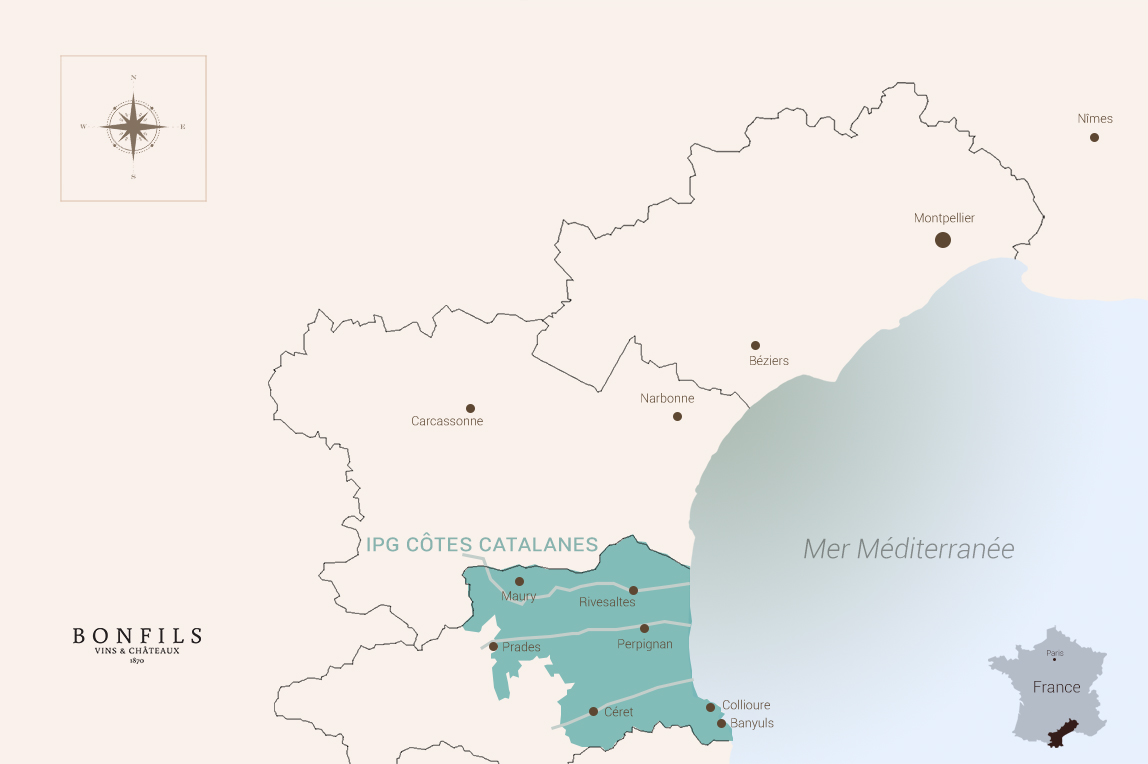 Climate
The vineyards of Roussillon are exposed to challenging weather patterns. They are home to the ultimate Mediterranean climate with its hot summers, mild autumns and winters and rainfall which is concentrated in the autumn and the spring.
The prevailing dry, northerly Tramontane wind blows every other day across the vineyards, keeping the fruit incredibly healthy and reducing use of plant protection products.
Soils
Geologically, Roussillon has had a turbulent past, undergoing significant upheavals in the Tertiary and Quaternary periods.
The uplift of the Pyrenees left a lasting mark, shaping its landforms and lending it myriad vineyard sites, each with their own distinctive characteristics. This diversity is unique.
These terroirs are so powerful that their raw materials, when crafted, inevitably produce fine wines.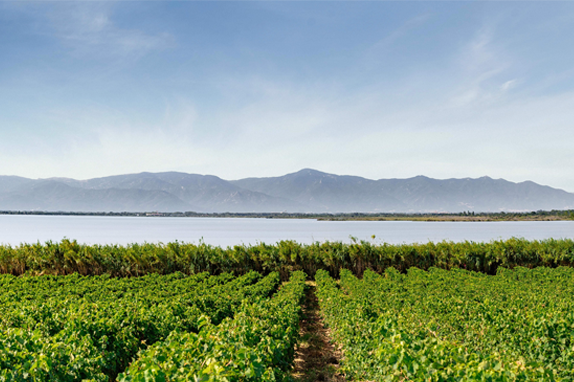 Permitted grape varieties
Red and rosé wines: primarily Grenache noir, Carignan noir, Cinsault, Lledoner Pelut, Mourvèdre, Syrah, Merlot, Cabernet Sauvignon, Cabernet Franc, Chenanson and Marselan.
White wines: primarily Grenaches blanc and gris, Macabeu, Malvoisie du Roussillon, Marsanne, Roussanne, Vermentino, Muscat d'Alexandrie, Muscat petits grains, Chardonnay, Sauvignon blanc and Viognier.
Colours and styles
Red IGP Côtes Catalanes: these are light, easy-drinking or fleshy, powerful wines and they often highlight the main character traits of the grapes they are made from.
Rosé IGP Côtes Catalanes: fresh wines recalling red berry fruits and floral notes.
White IGP Côtes Catalanes: fine and delicate or concentrated wines, their aromas, richness and structure often mirror the grape varieties used.